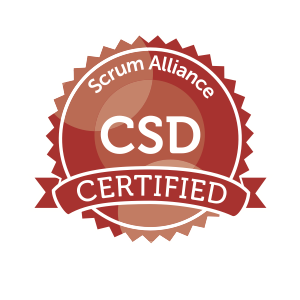 Course Description
During this one-week Scrum Developer course, the participants get a feel of what it is like to be on a Scrum team. They will go through a one-week sprint in which they build a small application. The course is structured so that there are small lecture-introduction of practices which is immediately followed up by putting the them into practice using the one-week application. This structure is as close to agile coaching as you can get within a one-week training.
The course is five day long during which there is about 50% lecture and 50% exercise. The course cover Scrum practices such as Sprint Planning, Backlog Refinement, working as a team and a lot of technical practices such as Test-Driven Development, Continuous Integration, Acceptance Test-Driven Development, Refactoring. It also covers how to apply these practices in a legacy codebase situation.
The course assumes basic Scrum knowledge and experience with Java. Prefered pre-work is reading the Scrum Primer and the Acceptance Test-Driven Development with Robot Framework articles.

Course Agenda
Monday
Requirement workshop / A-TDD
SCM,Build Automation and other tools
Sprint Planning
Pair Programming
Tuesday
Continuous Integration and CI Systems
Using your IDE
Test-Driven Development
Working in teams
Wednesday
Collective Code Ownership
Mocking
Code Smells & Refactoring
Thursday
Good unit tests
Thinking about Design
Working with Legacy Code
Friday
Craftsmanship
Retrospective
About Steven
Steven Mak is an Agile Coach of Odd-e team. He is interested in every part of software development activities and a variety of programming languages, from mainstream to the very exotic. He considers code quality very important as this is what fundamentally the programmers are working on and also what software company is delivering. At the moment, He is focused on test-driven development, refactoring, continuous integration, and of course Scrum.
He begins interested in programming while he was in primary school. Later obtained a Bachelor degree in Computer Science at the University of Hong Kong. To pursue better understanding of teams, customers, and products, he completed a Master degree in Business Administration at Imperial College London.
Location
Odd-e Office
19/F, Connaught HarbourFront House, 35-36 Connaught Road West, Sheung Wan, Hong Kong
By Train: Exit C, Sheung Wan MTR
Price
The course fee is HKD 15000
Registration
You can register by sending an email to Steven Mak