Course Description
This 2-day course helps you learn the Scrum framework and how to become an effective Product Owner within that framework, from theory to practice.
In day one, we start with the influences that lead to the creation of Scrum such as empirical process control and how Scrum relates to the Agile Manifesto. After we've covered the Scrum framework, we shall study the Product Owner role in detail. The rest of the course will follow the typical product development flow, start from envisioning a product to iterating product discovery and delivery. The focus in day one is on product vision and value thinking.
In day two, using our product vision, we shall create user stories and organize them into product backlog by using various techniques such as impact mapping and story mapping. After exploring and diverging, we then slice stories into releases, and start release planning in a continuous manner. We introduce the technique of specification by example to add more details for the stories to be taken into next sprint. Those examples drive the further product delivery. In the end, we shall learn about quality thinking and the role of Definition of Done in product delivery.
This course is suitable for anyone who would like to learn Scrum in general and the Product Owner role in depth.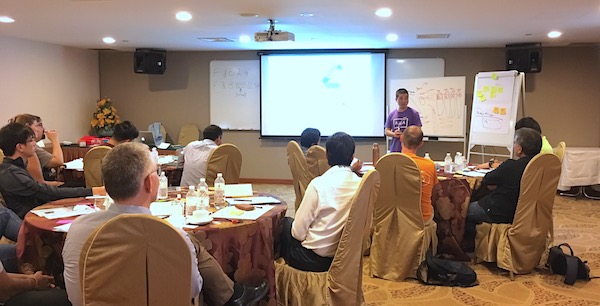 Course Agenda
Day One
Background
Overview
Product Owner
Product Vision
Product Discovery
Day Two
Product Backlog
User Story
Release Planning
Spec by Example
Product Delivery
Some words from past participants
"Lv Yi helped me re-understand the role of Product Owner, what he/she should or not do and many tools to help me work better with the team.", Anonymous
"The insights from the discussion about each Scrum activities and techniques brings meaning and purpose of what we do. I can see better how to apply in future scenarios.", Anonymous
About Lv Yi
Lv Yi lives in Hangzhou, China. He is the first Certified Scrum Trainer from China since 2008. He is also a Certified LeSS Trainer since 2018. As a coach at Odd-e, he gives his best expertise to help more organizations transform to Agile, and coach teams to improve their output and learning.
He has worked in various positions in Telecom industry since graduation in 2000, ranging from Software Developer to Management position such as development manager, project manager and quality manager. From late 2005, he started to get acquainted with Agile software development, in particular, Scrum. First, he introduced Scrum to manage the projects, then, acted as driving force in transforming the whole product organization. He led a department inside that product organization and focused on developing teams and Scrum Masters to create sustainability. It was not an easy 5-year journey, but very rewarding one in terms of both improving the business and the people. Since he joined Odd-e at the end of 2010, he worked with more industries, recently focusing on Internet industry.
You may find his blog here.
Location and Time
9am to 5:30-6pm
Sophia room (Level 2)
Hotel Grand Pacific Singapore
101 Victoria Street
Singapore 188018

Price
The course fee is 1800 SGD.
Early bird fee is 1440 SGD if registration is 6 weeks before the class.
The prices above exclude 7% GST.
Additional info. for GovTech: The above fee includes a certification fee of 60 SGD (incl. GST).
Registration
You can register by sending an email to Yeong Sheng